Shibuya, Tokyo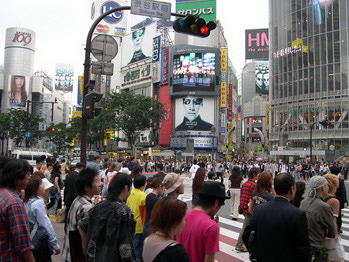 Shibuya (渋谷区 Shibuya-ku) is one of the 23 special wards of Tokyo, Japan. As of 2005, it had an estimated population of 195,877 and a density of 12,960 persons per km². The total area is 15.11 km².
The name "Shibuya" is also used to refer to the central business district of Shibuya Ward, which surrounds Shibuya Station, one of Tokyo's busiest railway stations. Shibuya is known as one of the fashion centers of Japan, particularly for young people, and as a major nightlife area.
In addition to this area, Shibuya Ward includes other well-known commercial and residential districts such as Daikanyama, Ebisu, Harajuku, Hiroo, Omotesandō, Sendagaya, and Yoyogi (the latter two are part of the Shinjuku Station area).
Shibuya History
Following the opening of the Yamanote Line in 1885, Shibuya began to emerge as a railway terminal for southwestern Tokyo and eventually as a major commercial and entertainment center. It was incorporated as a village in 1889, as a town in 1909, as a ward of Tokyo City in 1932, and as a ward of Tokyo Metropolis in 1943. The present-day special ward was established on March 15, 1947.
One of the most well-known stories concerning Shibuya is the story of Hachikō, a dog who waited on his late master at Shibuya Station every day from 1923 to 1935, eventually becoming a national celebrity for his loyalty. A statue of Hachikō was built adjacent to the station, and the surrounding Hachikō Square is now the most popular meeting point in the area.
Yoyogi Park in Shibuya was one of the main venues for the 1964 Summer Olympics.
Shibuya has achieved great popularity among young people in the last 30 years. There are several famous fashion department stores in Shibuya. Shibuya 109 is a major shopping center near Shibuya Station, particularly famous as the origin of the kogal subculture. Called "Ichi-Maru-kyū," which translates as 1-0-9 in Japanese, the name is actually a pun on that of the corporation that owns it — Tokyu (which sounds like 10-9 in Japanese). The contemporary fashion scene in Shibuya extends northward from Shibuya Station to Harajuku, where youth culture reigns; Omotesandō, the zelkova tree, and fashion brand lined street; and Sendagaya, Tokyo's apparel design district. (See: List of apparel design shops in Sendagaya)
During the late 1990s, Shibuya also became known as the center of the IT industry in Japan. It was often called "Bit Valley" in English, a pun on "Bitter Valley," the literal translation of "Shibuya."
Sightseeing and Historic Sites
Green areas
Meiji Shrine, Shinto shrine dedicated to the souls of Emperor Meiji and Empress Shōken, surrounded by a 700,000-square-meter forest.

Shinjuku Gyoen (Sendagaya), former Imperial gardens now open to the public as a park.

Yoyogi Park, once a training base for the Imperial Japanese Army, later the Washington Heights housing area for the Occupation of Japan, then the lodgings for contestants in the Tokyo Olympics.
Buildings
Shibuya 109, Hugely popular and trendy place for mostly Japanese young women to shop.

Bunkamura, theatre and concert hall complex

Cerulean Tower, the tallest building in the Shibuya Station area

Ebisu Garden Place (Ebisu), site of the former Sapporo Beer brewery, now featuring restaurants and shopping, along with the Westin Hotel

National Noh Theatre (Sendagaya)

New National Theatre (Hatsudai), site of opera, ballet, and other performances

NHK Broadcasting Center, headquarters of the NHK radio, television, and satellite broadcasting system

NTT DoCoMo Yoyogi Building (Sendagaya), the second-tallest building in Tokyo, patterned after the Empire State Building

Omotesandō Hills, a shopping mall completed in 2006

Southern Terrace (Sendagaya)

Takashimaya Times Square (Sendagaya), one of the largest department stores in Japan
Tokyo Metropolitan Gymnasium (Sendagaya), a major indoor arena complex

Yoyogi National Gymnasium, designed for the 1964 Olympics by Kenzo Tange.
Streets
Aoyama Street, a major east-west thoroughfare

Dōgen-zaka, a road in central Shibuya famous for its surrounding nightclubs and love hotels

Kōen Street, in central Shibuya between Shibuya Station and Yoyogi Park

Meiji Avenue, a major north-south thoroughfare parallel to the Yamanote Line

Miyamasu-zaka

Omotesandō, an avenue leading up to the Meiji Shrine with a number of famous-brand boutiques

Spain-zaka

Takeshita Street, a shopping street through Harajuku

Yamanote Street
Other
Shibuya is famous for its scramble crossing called Center Gai (センター街 sentaa gai), which is reportedly the world's busiest. It is located in front of Shibuya Station and uses a four-way stop to allow pedestrians to inundate the entire intersection. Three large TV screens mounted on nearby buildings overlook the crossing. The Starbucks store overlooking the crossing is also one of the busiest in the world. The 2003 United States movie Lost in Translation featured a scene at the crossing.

A mock Moai statue, a gift from the people of Niijima, one of Tokyo's islands

Eighteen embassies are located in Shibuya.
Shinjuku Transportation
Rail
The main station in Shibuya is Shibuya Station.
JR East

Yamanote Line: Yoyogi, Harajuku, Shibuya, Ebisu stations

Chūō-Sōbu Line: Yoyogi, Sendagaya stations

Saikyō Line, Shōnan-Shinjuku Line: Shinjuku (the part south of Kōshū Kaidō, including the New South Entrance, is in Shibuya), Shibuya, Ebisu


Tokyo Metro


Ginza Line: Shibuya Station

Hibiya Line: Ebisu Station

Chiyoda Line: Meiji Jingū-mae, Yoyogi Kōen, Yoyogi Uehara stations

Hanzōmon Line: Shibuya Station

Tokyo Metro Line 13 (not yet open in Shibuya): Shin Sendagaya, Meiji Jingū-mae, Shibuya stations


Tokyo Metropolitan Bureau of Transportation Toei Oedo Line: Shinjuku (in Yoyogi), Yoyogi, Kokuritsu Kyogi-jo stations

Tokyo Kyuko Electric Railway (Tokyu)


Toyoko Line: Shibuya, Daikanyama stations

Den-en-toshi Line: Shibuya, Ikejiri Ohashi stations

Keiō


Inokashira Line: Shibuya, Shinsen

Keio Line: Sasazuka Station

Keio New Line: Hatsudai, Hatagaya, Sasazuka stations


Odakyū Odawara Line: Minami Shinjuku, Sangubashi, Yoyogi Hachiman, Yoyogi Uehara stations

The Royal Platform (kyūtei hōmu), used by the Japanese Imperial Family on rare occasions, is located along the Yamanote Line, a few minutes walk from Harajuku Station in Sendagaya 3-chome.
Highway
Shuto Expressway


No.3 Shibuya Route (Tanimachi JCT - Yoga)

No.4 Shinjuku Route (Miyakezaka JCT - Takaido)


National highways


Route 20, the Kōshū Kaidō

Route 246, with the local names Aoyama-dōri and Tamagawa-dōri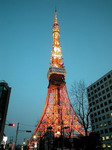 TOKYO TOWER
Tokyo Tower is a tower in Shiba Park, Minato-ku, Tokyo, Japan. It is 333 m (1093 ft) tall, making it one of the world's highest self-supporting steel towers and the tallest man-made structure in Japan.
Tokyo Tower Information


UENO ZOO
The Ueno Zoo is a zoo, owned by the government of Tokyo, and located in Taito Ward, Tokyo, Japan.
Ueno Zoo Information